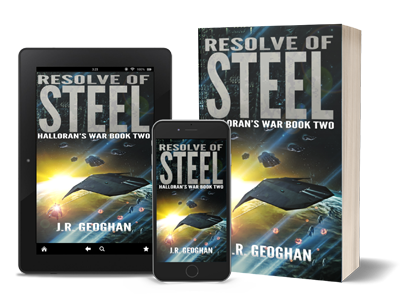 One time-transplanted sub captain. One dead alien ship brought back to life on the side of humanity. A crew ready to die for both that ship and man.

Thomas Halloran is becoming a reluctant leader in the future war he barely understands. The twenty-first century nuclear submarine captain and crew struggle to learn how to use their captured alien warship while in the midst of battle with relentless alien forces.
As Halloran and his assembled crew of Americans and allies face both their inadequacy and duty, they realize that without each other no one will survive. And that the new allegiances and friends of this turbulent future may be their only hope of avoiding a death in the cold of space.
Will Halloran's burning desire for revenge overcome his own duty to his crew and jeopardize them all? The journey home will take much longer than he expects…
Resolve of Steel is the fast-paced second book in the Halloran's War military sci-fi series. If you like tormented captains, embattled ships and crews, space battles and a time-travel twist, you'll love J.R. Geoghan's futuristic tale.
Grab your copy of Resolve of Steel and fasten your explosive decompression restraints!