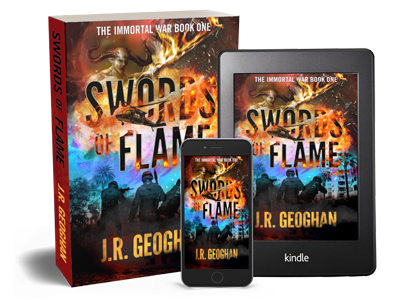 The Demons took everything. But now, Sergeant Carter gets to fight back.
Will his newfound power be enough to stop their ancient hunger for revenge?
"Author J.R. Geoghan weaves a tale spanning millennia and bringing the dead to life in a fresh new way."

When his quiet existence is upended by a bloody body on his shop's doorstep, Iraq vet Carter has to come to grips with a hidden past and a future he never anticipated – as part of a desperate supernatural war that has existed since the beginning of time.
From the mountains of San Diego and a showdown aboard a speeding train to a thrilling helicopter ride just over the heads of the busy streets of Los Angeles, Carter must follow the bloody trail of adversaries he can barely understand – let alone overcome. And if he fails…the evil will surely cover the Earth.
"Captured my attention from the start and kept me guessing all the way through." – Peggy
"The action which included supernatural warfare mixed in keeps the pages turning…" – David
"It is an action/mystery with a spiritual twist that will challenge your imagination…" – William
"A great Christian fiction novel full of action and energy." – Brian