Welcome to Chris Carter's World
"As a Christian, it isn't easy to find fiction that's fun, keeps you engaged and wholesome. For me, Swords of Flame fit the bill. I'm looking forward to the next book!"

"Great book, has an interesting plot and will surprise you…"

"…The story is unique and clever. It is an action/mystery with a spiritual twist that will challenge your imagination as well as your knowledge of the Bible."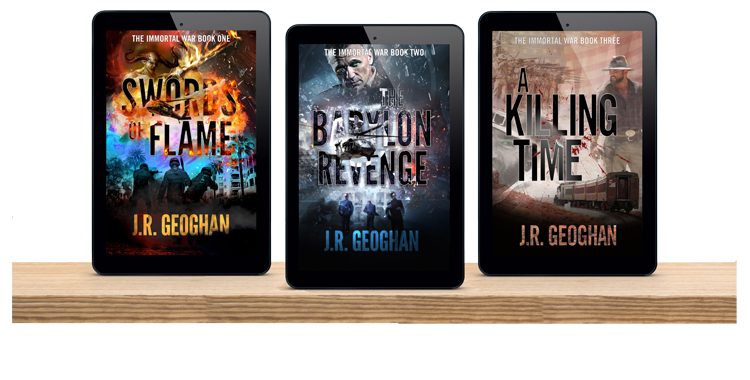 Chris Carter is a retired U.S. Army Sergeant who is wrestling with brutal memories of combat during two tours in the Iraq War.  He lost his first squad to an ambush in the early days of the invasion and was badly wounded in the engagement.
After his recovery he was posted to a new squad in another unit, one which was often used for "special duty" by his division; recovering sensitive and unusual things for the army, including the elusive weapons caches squirreled away across the desert landscape and dusty urban backstreets.  Their missions include a mysterious incursion into the bowels of Saddam's summer palace, built over the ruins of Nebuchadnezzar's fortress in the ancient city of Babylon.
Chris joined the Army to escape a troubled youth growing up in New York's Long Island, but trouble continued to find him "in-country."  When he finally thinks he's turned the corner and found the love of his life, something happens that shatters his dreams.
Embittered and hardened by his experiences, he returns to the U.S. and wanders, eventually finding a new home in the remote but charming town of Julian, nestled in the mountains of San Diego County, California.  He tries to settle in and establish himself in the small tourist-driven community.
But trouble is still on the lookout for Chris Carter… and he discovers that he has a whole new set of enemies hunting him but also "friends in high places" who introduce him to an age-old supernatural struggle.  One that he must become a part of…
Here's a link to buy  "Swords of Flame",  the first book of the Chris Carter Series!