The first novel in my Chris Carter Series takes place mostly in San Diego County.  San Diego is the furthest southwestern major city in the United States – only a dozen miles from Mexico.  I had the privilege of getting to live there for several years in the early 1990's, years I won't soon forget.
The county covers the gamut of landscapes, from the downtown waterfront to the high, remote mountaintop of Palomar Mountain.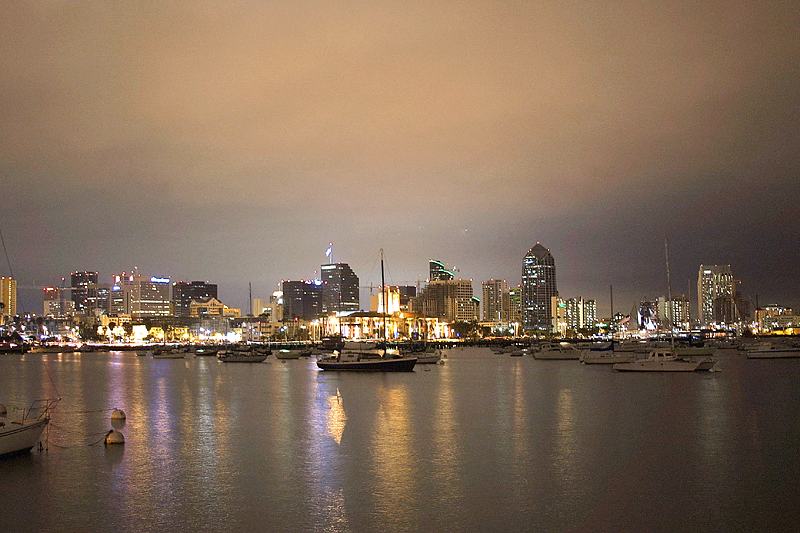 San Diego Bay at night
I frequently call San Diego "my adopted home town," and when I wanted to use a local familiar to me as the jumping-off point for my novel series, I immediately decided on someplace in S.D.  Julian, to be exact; more on that town in a future post!
I especially loved riding sportbikes out past Palomar (frequently right through Julian) and almost out to Palm Springs and back.  There are some wonderful wild vista in north and eastern San Diego – you can see the ocean in the distance in one direction and the desert to the east.  The roads are all-but perfect to hustle a performance motorcycle along.  I would spend an entire Saturday roaming the backroads…
As a surfer-escapee from the east coast, I found the beaches of San Diego to be a dream.  Almost the whole length of the county is accessible to anyone, unlike the private beaches of the shores of Long Island where I grew up.  The waves were plentiful, and we usually got up early to surf with the dawn when the Pacific Ocean was perfectly "glassy."  I had my favorite surf breaks and would drive around at dawn with a coffee in hand, looking for the best spot to dive in.
The food in San Diego is awesome, IF you love Mexican.  Roadside stands manned be folks making the real thing – yum!  I loved Robertos and similar-named restaurants; little places where you walked up to a window and ordered, then sat down at a bench.  Did I mention that the weather is 68-70 and sunny all year?  Winter is when it rains.
I am glad that Chris Carter chose San Diego as his home base; that way I get to rediscover it in my writing!  Looking forward to going back some day…